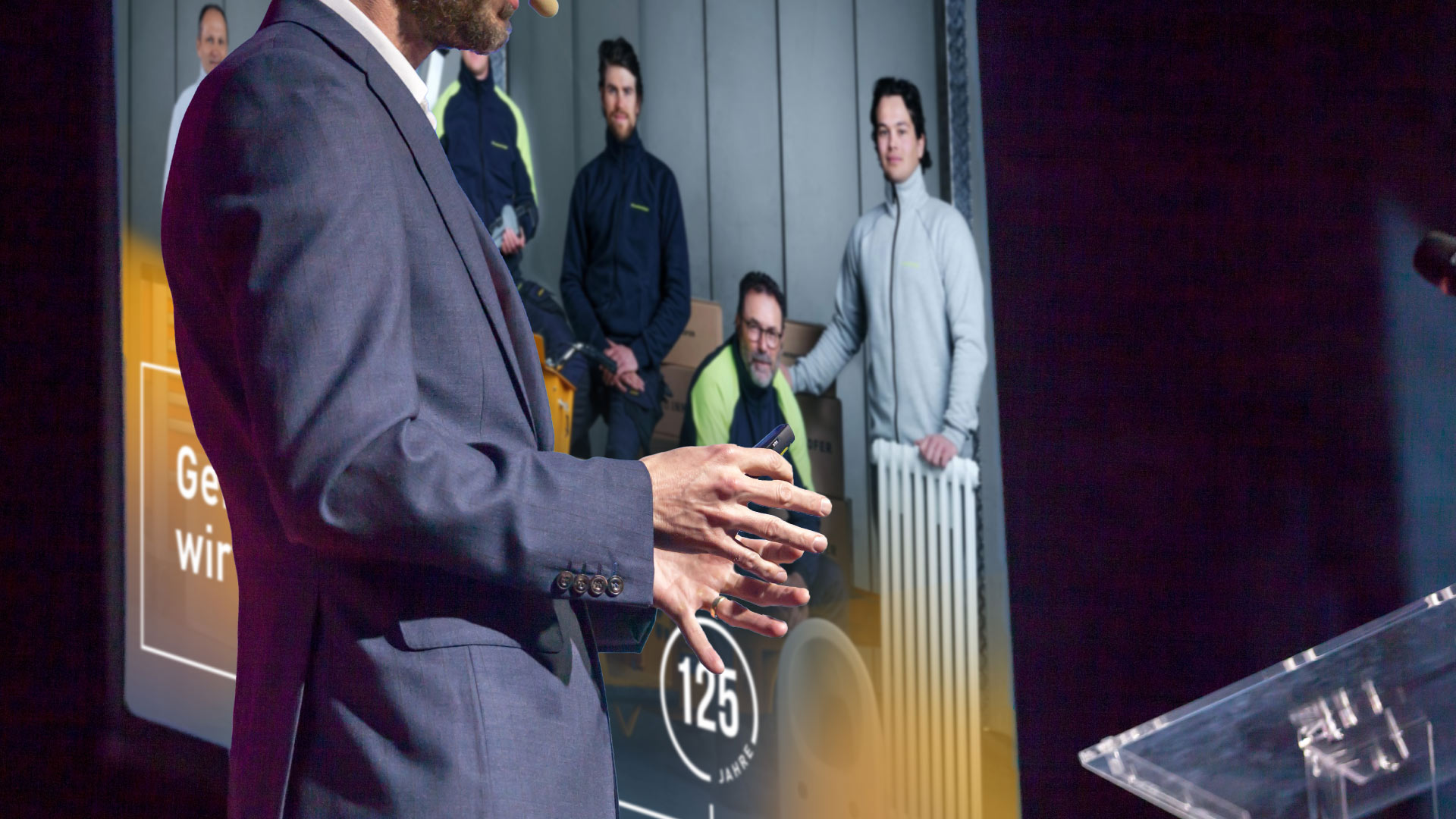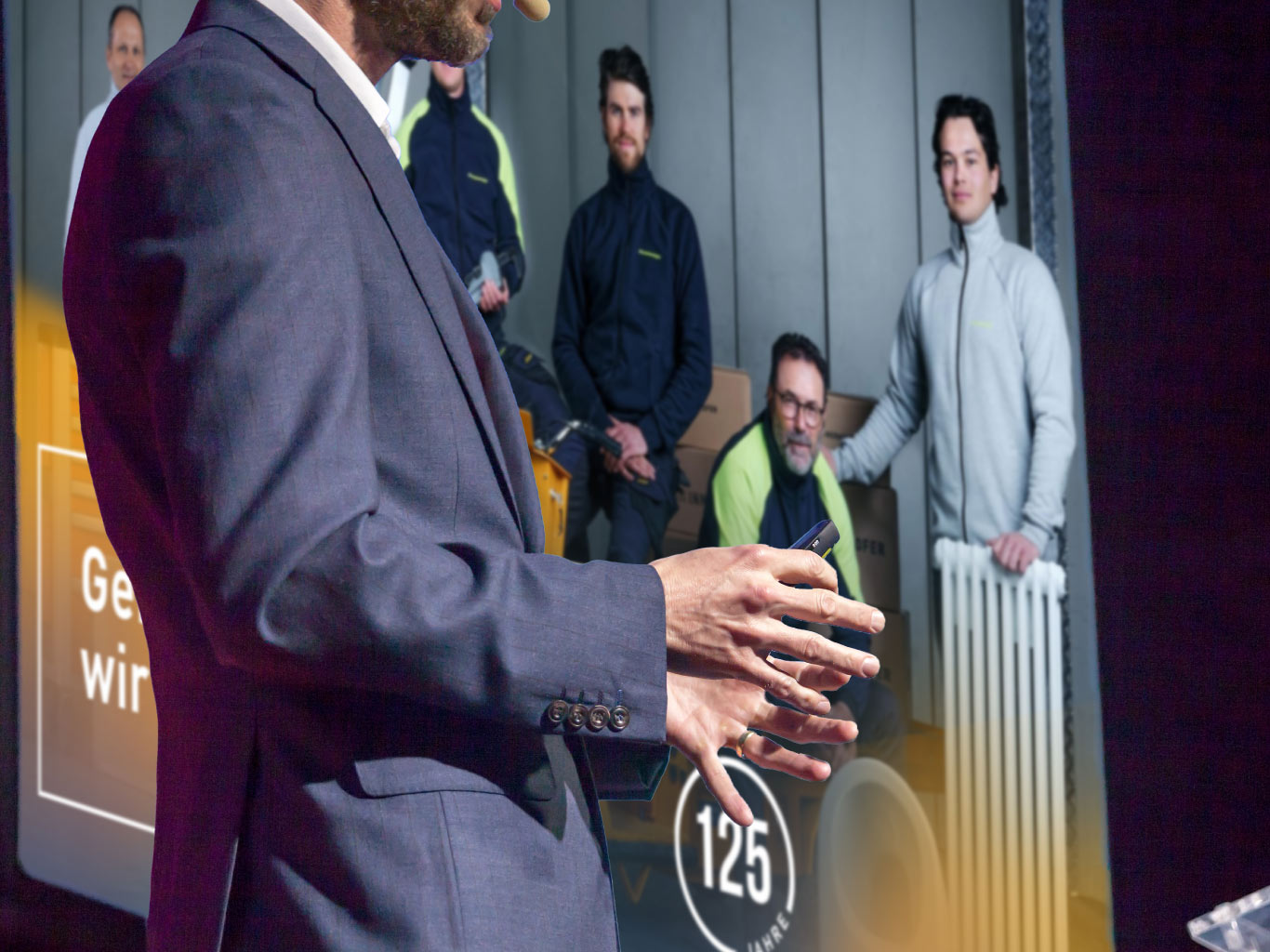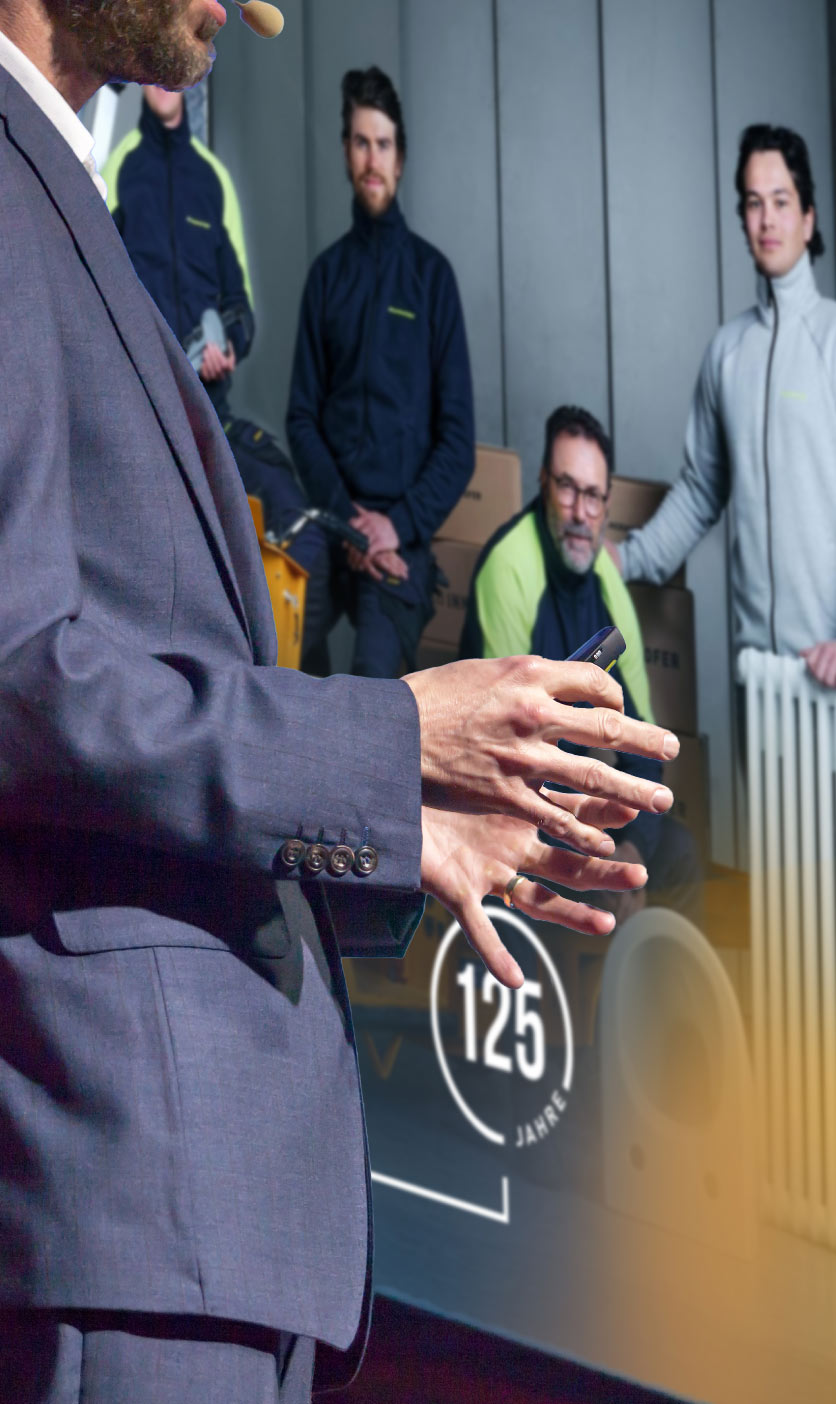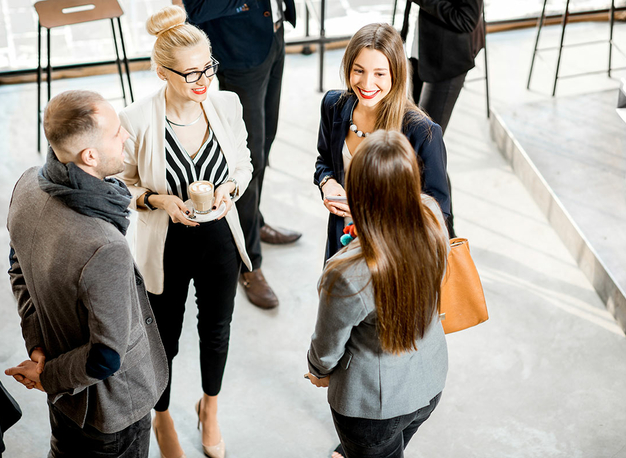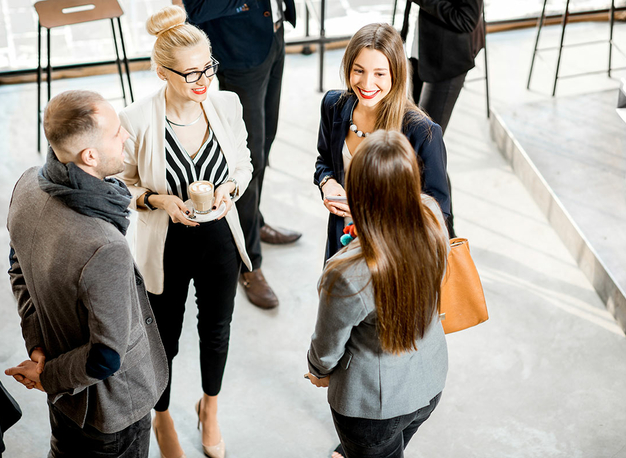 Innerhofer in-house exhibition
We are pleased to give you an insight into an exciting project that we implemented in cooperation with our sister company fairplay. We were allowed to develop a holistic concept for our joint client Innerhofer for an in-house exhibition on the occasion of their 125th anniversary. In addition to classic exhibition stand construction work and the design of print media, this project also required an extensive landing page as well as comprehensive advertising. We are proud of the great result and the great cooperation with our client and our sister company.
125 years Innerhofer
125 years stand for continuity, quality and experience. Over the decades, Innerhofer has built a first-class reputation as a wholesaler in the fields of bathrooms and wellness, tiles and flooring, and indoor climate. This anniversary deserves a special celebration, and we were more than ready to create an unforgettable event. With 11 branches and showrooms, Innerhofer is strongly anchored in the South Tyrol and Trentino region and is the partner for all installers and architects in this region.
The preparations for the Innerhofer in-house exhibition started with the creation of a specially designed communication concept and ended in an impressive digital presence: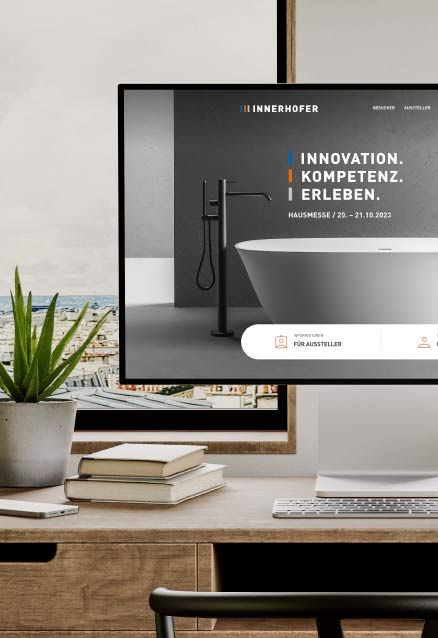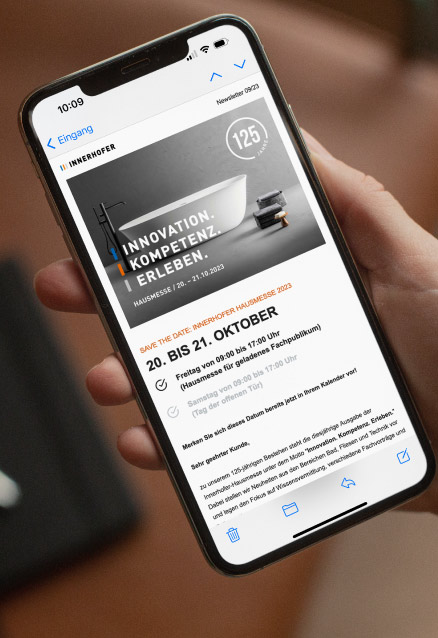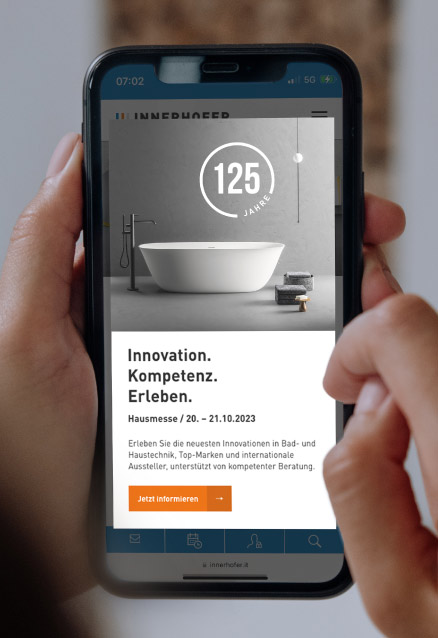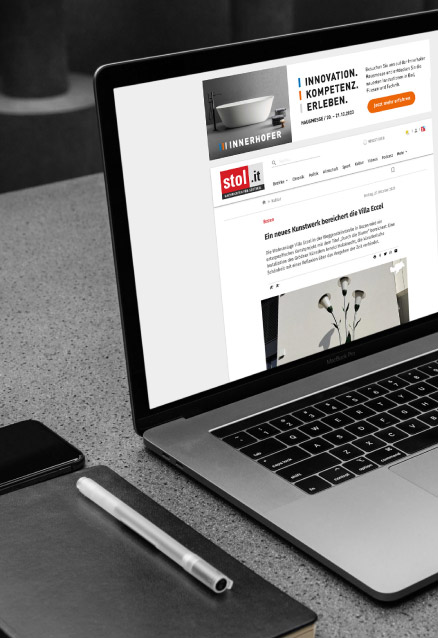 Landingpage with SHOP function
We developed a customized landing page that offered exhibitors and visitors an information hub as well as the possibility to register for the event. Exhibitors had the possibility to register digitally for the event and to book their booth including equipment completely digitally. In addition, useful information such as set-up and dismantling instructions, recommendations for accommodation and much more was offered.
Newsletter
We designed newsletters that fueled excitement for the upcoming in-house exhibition. Our announcement and reminder newsletters were accompanied by a countdown that continuously built excitement and anticipation among recipients.
Website Pop-Up
Every person who visited the website of Innerhofer was informed about the upcoming event by a pop-up. By clicking on the integrated button "Inform now" they were taken directly to the landing page. (furthermore just redirected to the landing page).
Advertising campaign
We implemented effective banner ads through targeted placements of GoogleAds and MetaAds. Display ads were placed in various digital channels to optimally reach the target group. In addition to digital marketing, we also used outdoor advertising, e.g. in the form of posters at bus stops, to promote the event in the best possible way.
We also spared no effort in the analog area. We developed high-quality POS displays on which the flyers we designed were impressively presented. These displays served to draw attention to the upcoming in-house exhibition in advance and to convey information. For targeted distribution of the flyers, they were also placed in Innerhofer's showrooms.
In addition, we placed great emphasis on addressing the target groups personally. Installers, planners and architects received personal invitations to generate awareness within the industry. Innerhofer thus wanted to ensure that the core target group had the opportunity to experience the products and services first hand.
To extend the reach of Innerhofer's trade fair advertising, we also relied on targeted advertisements in relevant media. This enabled us to ensure that the message was widely distributed and that potential interested parties became aware of the in-house exhibition.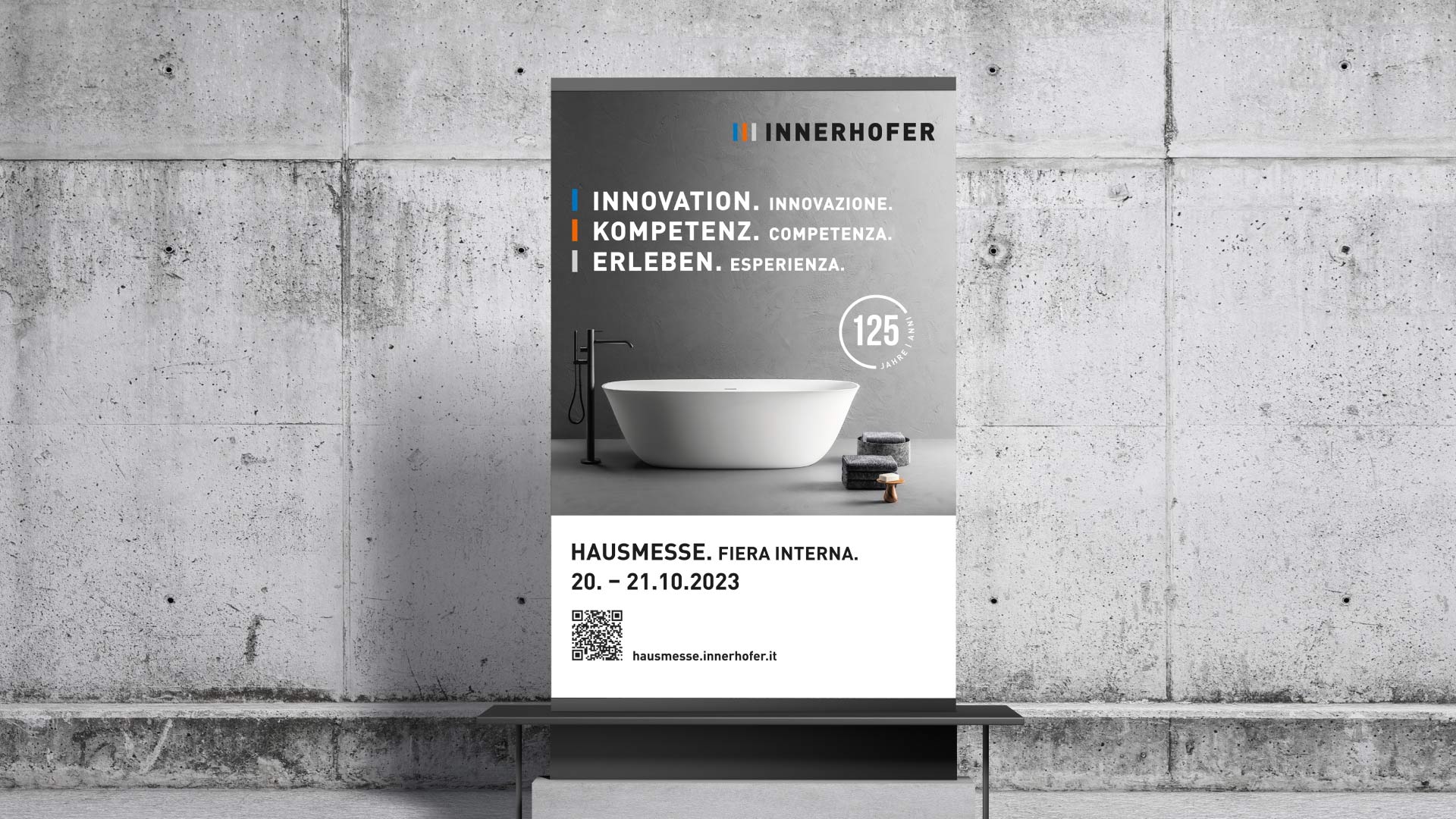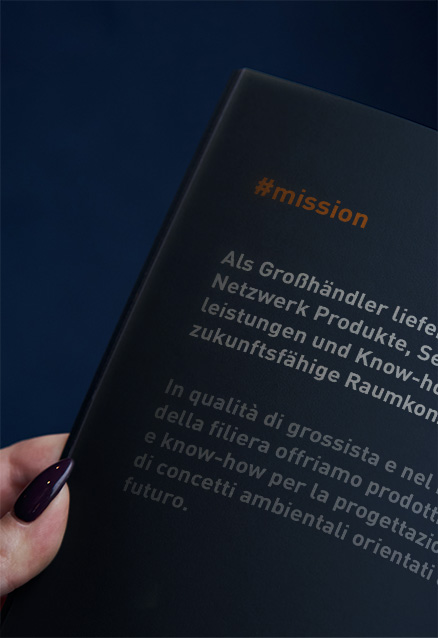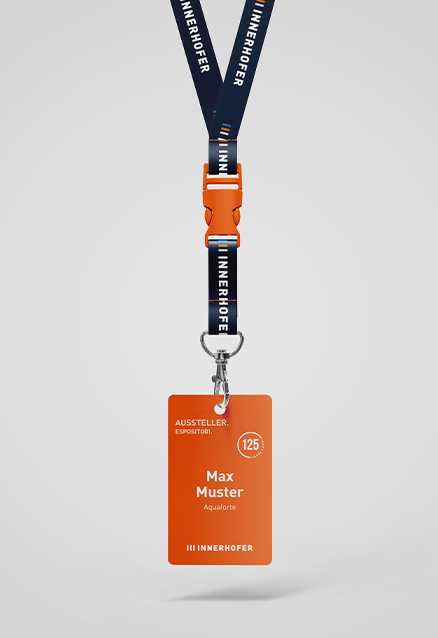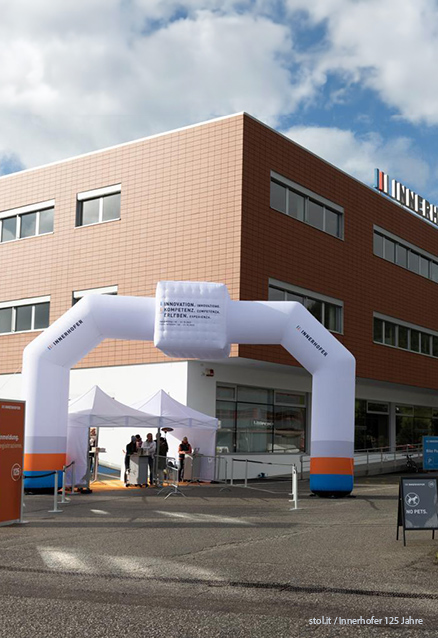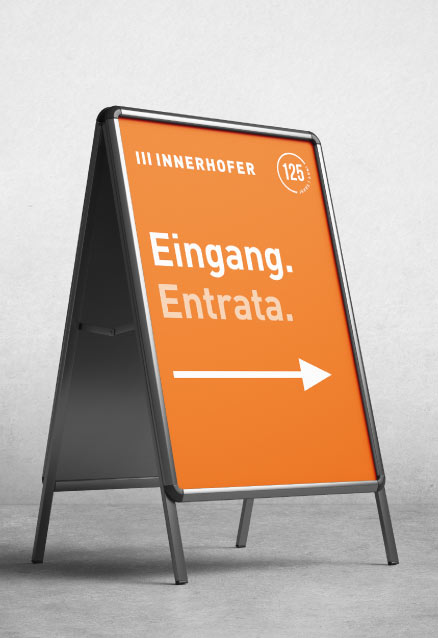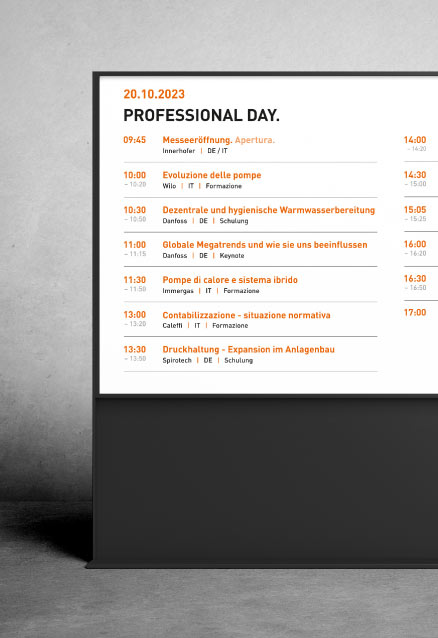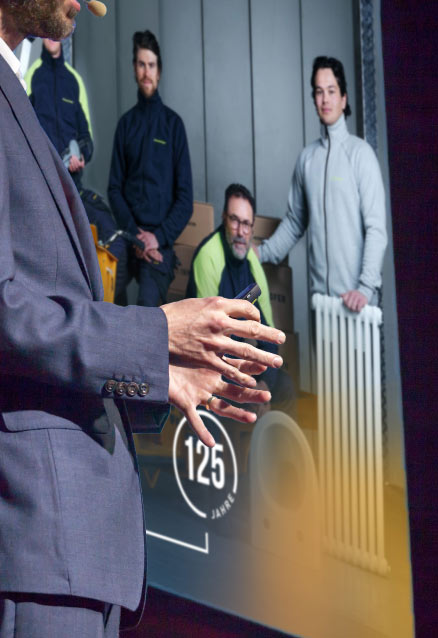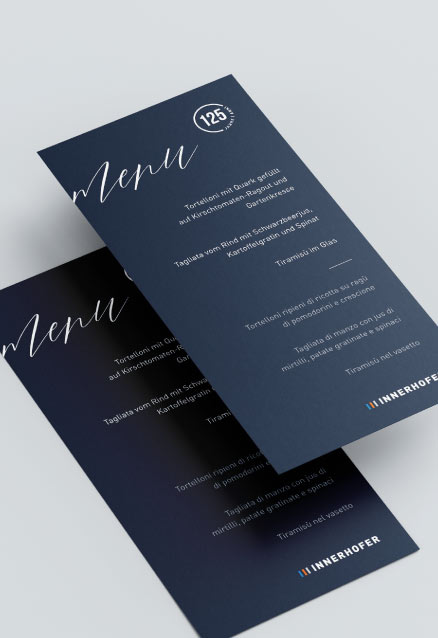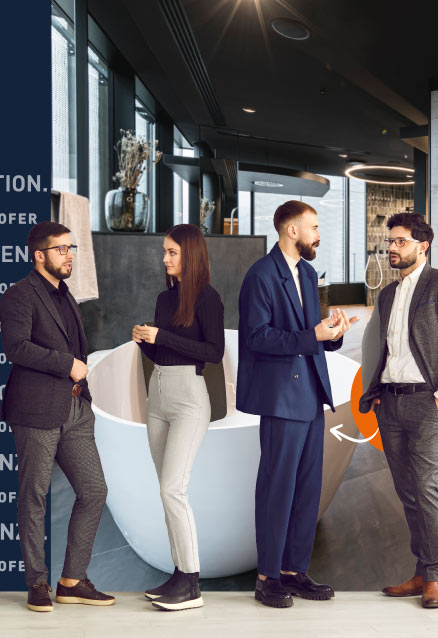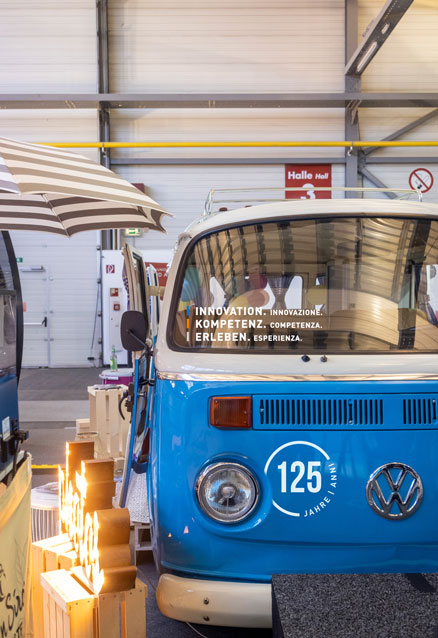 Brand compass
The brand compass that we created for the trade fair served primarily to orient visitors. This bilingual compass in German and Italian gave participants an overview of all the important information about the trade fair and the company itself, including:
an introduction to what to expect at the show
detailed information about the day's program
a clear exhibition plan
a listing of the exhibitors
job vacancies at Innerhofer
information about training opportunities for customers, partner companies and employees
origin of the company
Gadgets
In addition, we have made a number of gadgets especially for the exhibition, including admission wristbands, lanyards, badges and free vouchers.
Blow Up Archway
We also had the pleasure of designing the Blow Up Arch. This was made especially for the in-house exhibition and featured Innerhofer's colors to maximize brand presence and visibility at the event.
Signage concept
We developed a well thought-out signage concept for the entire trade fair. This concept followed a logical structure to help visitors find their way around. The booths and important areas were easy to find, which optimized the trade show experience.
Digital signage - concept and animations
For effective communication before and during the trade fair, we created a comprehensive digital signage concept. Before the trade fair, targeted animations were played in the showrooms to draw attention to the upcoming in-house exhibition. During the trade fair, information on the schedule and program items ran continuously on the digital displays.
Exhibition stage inserts
To support the presentations on the trade show stage, we developed inserts for the screens. These included relevant information and visuals to inform and entertain the audience.
Menu cards
In addition to event planning and conceptualization, we also handled menu card design to ensure that every detail of the in-house trade show was perfectly coordinated. Our menu cards were designed to attractively present the event's culinary offerings and provide attendees with a memorable gastronomic experience.
Exhibition stand of Innerhofer
The walls of Innerhofer's booth were designed to support brand recognition by presenting the company's colors and logo on the one hand, and on the other hand, the walls were used to provide other interesting information about the company, turning them into additional advertising media.
Photo Booth Bus
A photo bus on the exhibition grounds contributed to the interaction and allowed guests to capture memories. Decorations and gadgets were also made to match Innerhofer.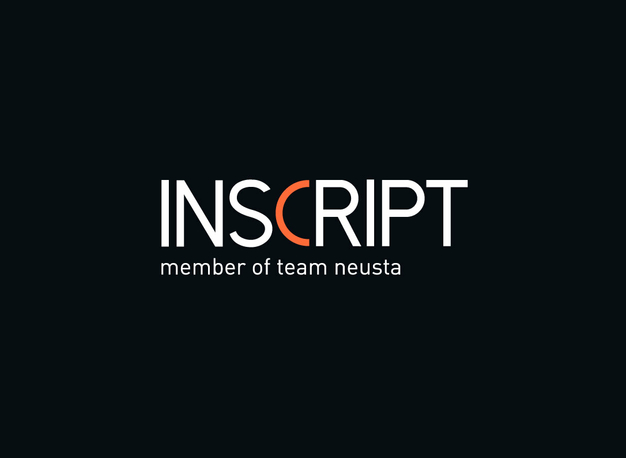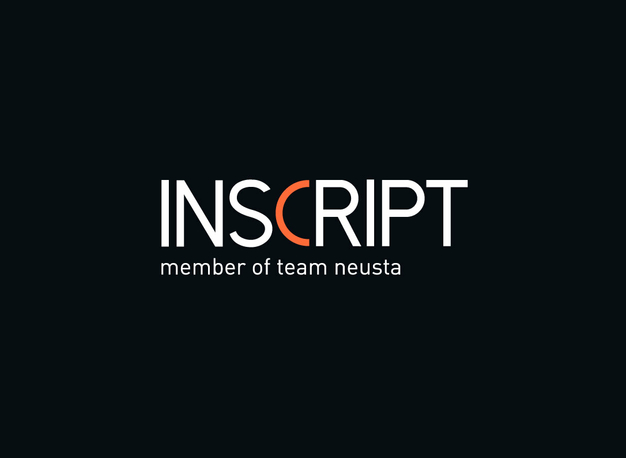 A complete success
The Innerhofer in-house exhibition was a complete success and we are proud to have been part of this project. We look forward to continuing to work together and making your next project a success as well. Visit Innerhofer to learn more and get inspired!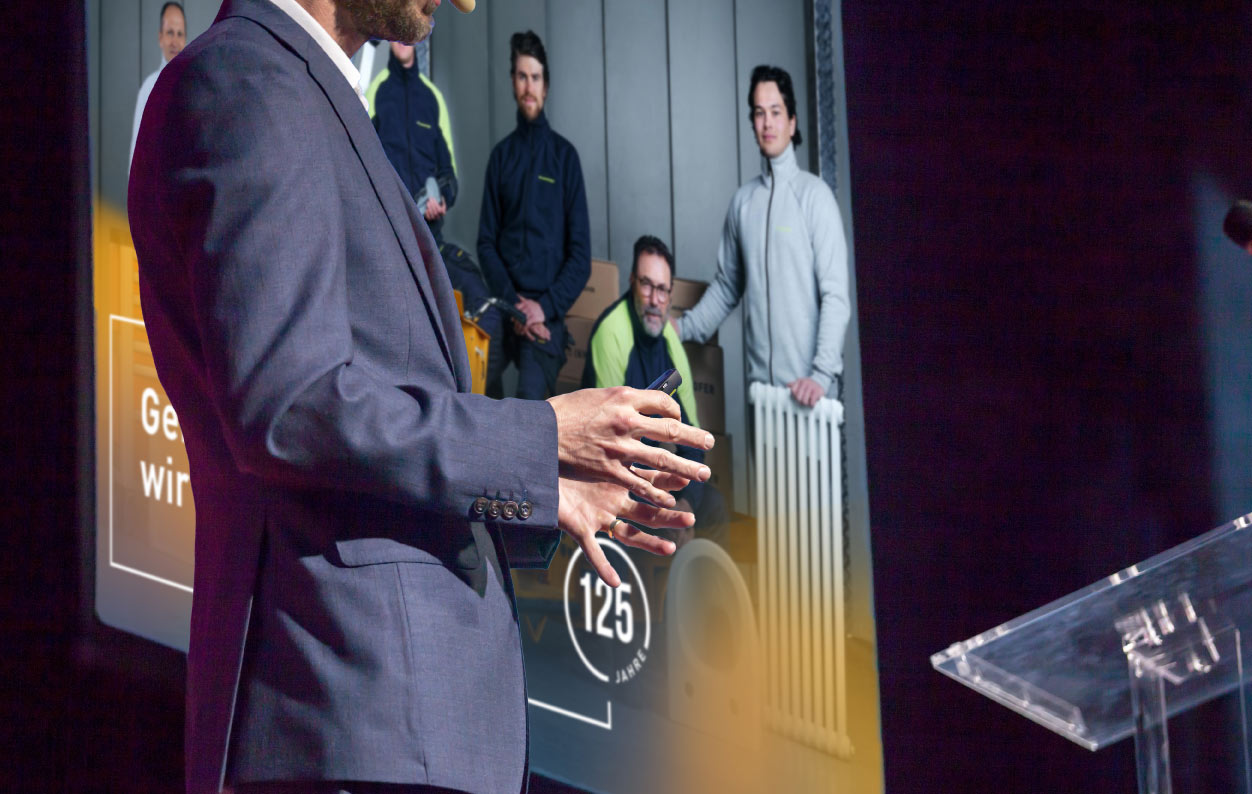 Innerhofer in-house exhibition
10/30/2023
We are pleased to give you an insight into a project we implemented in cooperation with our sister company fairplay.