BANDEX – On the Cutting Edge
BANDEX is a leading manufacturer of high-quality curtain and drape tapes, building on over 65 years of experience with narrow weaving and in-depth technical knowledge. Innovative and individual solutions for the customer as well as creativity contribute to the efficient success of the company. With state-of-the-art equipment, its own warping, weaving, knitting and finishing, the Vorarlberg-based company is able to produce a large part of its product range fully integrated, from yarn to the finished tape. With almost 500 different variants, BANDEX probably has the widest assortment of any manufacturer, and together with its customers, the company develops innovative products every year. This wide range and the versatile creative ideas for the use of the tapes show how cutting edge the company is.
BANDEX - The Weaving Mill for Narrow Weaving and Tapes in the Heart of Europe
The wide range and the versatile creative ideas for the use of the tapes show how cutting edge the company is. Decorative cushions or bedspreads become real eye-catchers for modern interior design. Refined details are compelling in their aesthetics and show that there is no limit to the imagination. The award of the EN ISO 9001 quality management certificate underlines the remarkable quality of the company.
// Mr Grübener, are the keywords "ideas, trends & innovations" what BANDEX stands for?
Mr Grübener: Exactly! BANDEX stands for quality in product and processing. For our service provision, we want to have lean and efficient processes. In procurement, we pursue the concept of near-sourcing (purchasing in the vicinity with short delivery times, small delivery quantities and reasonable prices).
// What makes BANDEX stand out as a specialist for curtain tape?
Mr Grübener: With almost 500 different designs, BANDEX certainly has the widest range of any manufacturer. Together with our customers, we develop new products every year. These are partly very market- or customer-specific solutions.
// Mr Grübener, how many metres of curtain tape does your company produce in a year?
Mr Grübener: In 2021, we sold 14 million metres of curtain tape. Fortunately, we've been seeing a positive trend for several years.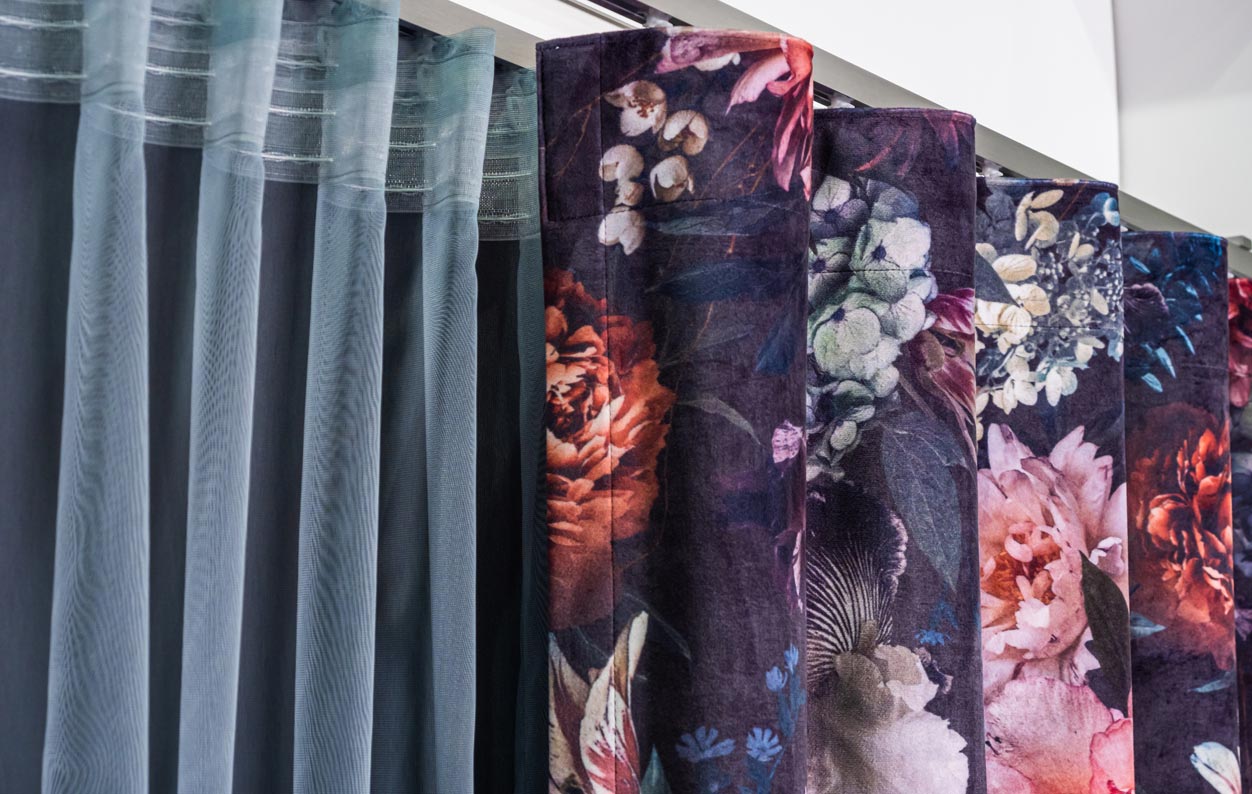 // Welcome to the showroom of the future - fairplay, Firmament and INSCRIPT implemented a virtual trade fair stand for the tape weaving company BANDEX.
Mr Grübener: Due to the pandemic, many trade fair events have been cancelled or have had significantly lower visitor numbers. As a result, fairplay, Firmament and INSCRIPT realised a completely new concept for an exhibition stand for BANDEX. We wanted a creative alternative that would score through innovation, appropriately present our company and its products and provide a long-lasting sales effect.
// Planning & development: fairplay - concept. space. trade fair.
Mr Egger, project manager at fairplay: Together with INSCRIPT, our partner company for digital solutions, we created the 3D design of the exhibition stand and sought a special location for the project. We found the ideal location in Rankweil at the Firmament, whose architecture and atmosphere we integrated into the project as part of the overall concept.
// 5 days, 4K, 360°
Mr Grübener: The high-quality textiles had to be perfectly staged and the haptics, optics and draping qualities had to be presented in a visually appealing way. For this purpose, INSCRIPT recommended realising the implementation by means of high-resolution panorama and detail shots in 4K. For this, the trade fair stand for 360° digitalisation was set up and dismantled within five days at the Firmament.
// The launch of a success story.
Mr Grübener: The result is impressive because the experience of visiting our virtual showroom is extremely close to that of visiting the BANDEX stand at a trade fair. We even have some advantages in the visualisation that we wouldn't be able to offer at all at a classic offline event. We're currently working on the first expansion stage of the virtual showroom because the product is working extremely well on the market.
// Mr Grübener, what was the motivation for BANDEX at the end of 2021 to have the idea of the virtual walk-in exhibition stand implemented?
Mr Grübener: BANDEX serves customers in more than 60 countries around the world. As already mentioned, new products are created in joint development work with them. New customer acquisition and the presentation of new tapes have traditionally taken place at trade fairs in recent years. With the outbreak of the pandemic in spring 2020, we were massively restricted in our opportunities to visit customers. There were, in actuality, no trade fairs. So we were forced to look for new opportunities. Fortunately, we already had a very well-running web shop and initially used it in meetings via Teams or Zoom. Soon this wasn't enough for us, and we offered online seminars as a supplement. These were quite well received, but have the disadvantage that here, too, the visitor has to be at a certain place at a certain time.
After it became clear in autumn 2021 that no trade fairs could take place in spring 2022 either, we looked for a solution that would offer visitors an experience and give them the feeling of being at a trade fair. This "showroom" should also be accessible 24/7. At the same time, this tool should also support us in our presentations at customer locations and be usable in offline events.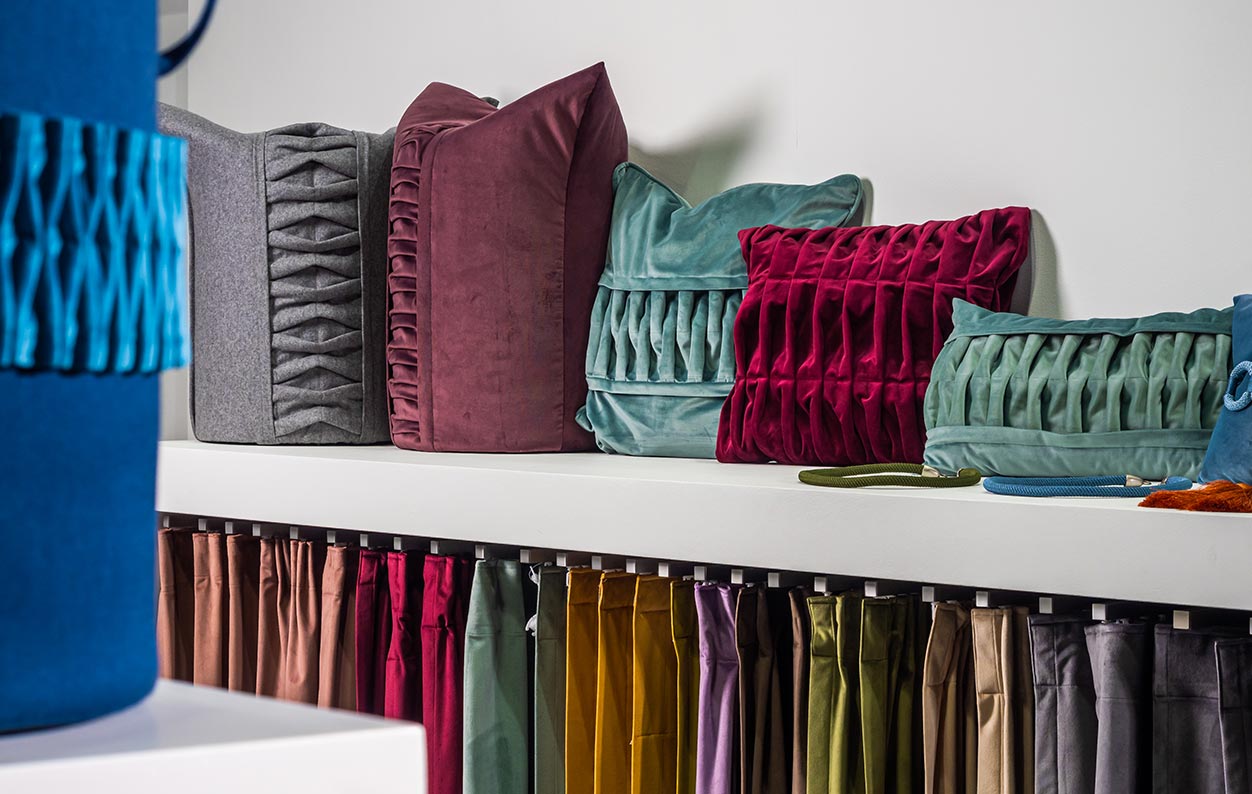 // How do you like the result?
Mr Grübener: I like the result very much and we're extremely satisfied with the new tool. But even more important is the positive feedback from customers. We went live with the virtual showroom at the end of January and have used it so far in Teams or Zoom meetings, at a trade fair in Warsaw and also when visiting customers. The set of samples that we carry with us and can present directly has been multiplied by the showroom.
By showing an overview of all BANDEX products that have been used in the curtain, we almost automatically sell more than before; namely those products that were often not mentioned before, or that the customers didn't see in the web shop, because they, as well as us, were focused on the curtain tape. However, it's particularly worth mentioning that after only 8 weeks of active use, we already had ideas on how to further develop this tool and make it even more efficient.
// What advice would you give to other companies regarding digitalisation?
Mr Grübener: No one can avoid the topic of digitalisation anymore. The pandemic has massively limited the possibilities of personal contact. Much of what was previously discussed in face-to-face meetings or at trade fairs now takes place virtually. In the field of home textiles, BANDEX operates in a very conservative environment where a lot of emphasis is still placed on haptics. Or to put it another way, those who work with textiles are grabbers who want to grasp everything by touching it with their hands.
But here, too, customers have had to adapt to the circumstances and have therefore opened up to the virtual world. Our customers have understood that they can view new articles in our virtual showroom and in the web shop. They also simply come to us with questions or use the contact form just to arrange a consultation appointment with us. None of us will be able to turn back the clock. People have realised that things can be done differently than what they were used to. All these processes are just at the beginning, and many things will continue to develop over the next few years.
// What was the greatest moment of success for you in the 360° project?
Mr Grübener: The experience of visiting our virtual showroom is extremely close to the experience of visiting the BANDEX stand at a trade fair. We even have advantages in visualisation that we couldn't offer at an offline event. Thanks to the pin-sharp, high-resolution images, every visitor can see and experience exactly how the BANDEX curtain tapes perfectly set the scene for the curtain.
// What would you like to conclude or emphasise?
Mr Grübener: We had a lot of fun carrying out the project with the team from INSCRIPT. From the idea to the implementation, we exchanged ideas intensively and worked together perfectly. Otherwise, we wouldn't have been able to implement the whole thing together in such a short time. The fact that we're already working together on the first expansion stage 2 months after the presentation of the virtual showroom shows that the product works and is accepted on the market, but also that the chemistry between INSCRIPT and BANDEX is right. But we should not forget that Ernst Seidel provided us with a perfect location for the shoot with his Firmament.
In addition to the virtual showroom, you can also look up tips and processing instructions on the website www.bandex.com, where you can also get inspiration from various ideas and sewing instructions. In the web shop you will find the entire product range of the innovatively managed company.
// Thank you very much for your time.
Projekt Factbox –
Virtuelle Tour
Location: "Firmament" in Rankweil, firmament.at
Design & construction trade fair stand: fairplay GmbH, fairplay.gmbh
Digitalisation: Inscript GmbH, Inscript.at
Click here to go to the bandex.com showroom: bandex.com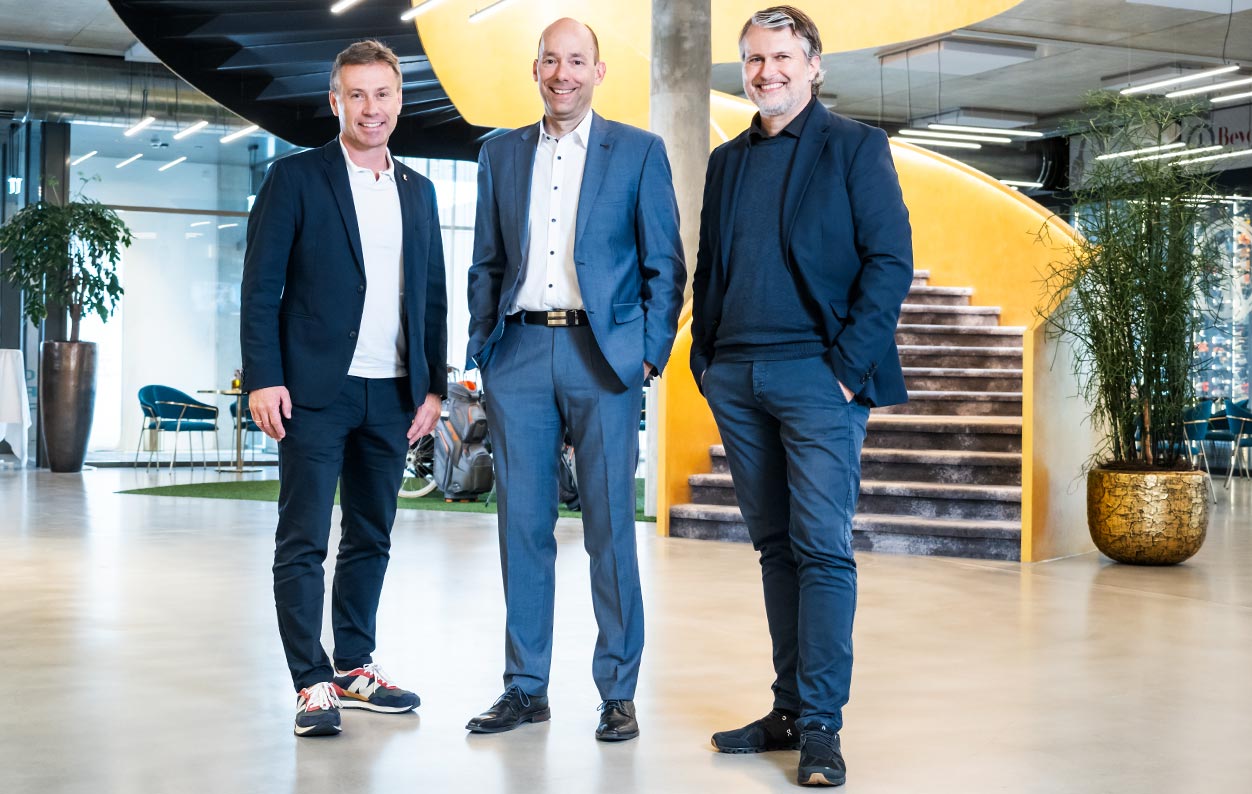 BANDEX – On the Cutting Edge
01/12/2022
BANDEX is a leading manufacturer of high-quality curtain and drape tapes, building on over 65 years of experience with narrow fabrics and in-depth technical knowledge.