5 Steps to the Perfect Google My Business Entry
The Google My Business entry is one of the most important for a company on the Internet and should always be up to date and fed with sufficient information. This is because it is connected to the entire Google system and thus provides the basis for being found via Google search results, Google Maps and the like. Since Google has become an integral part of the daily lives of millions of people, you can literally say: if you don't exist on Google, you don't exist. To ensure that you don't lose any customers, we will show you how to create the optimal Google My Business entry.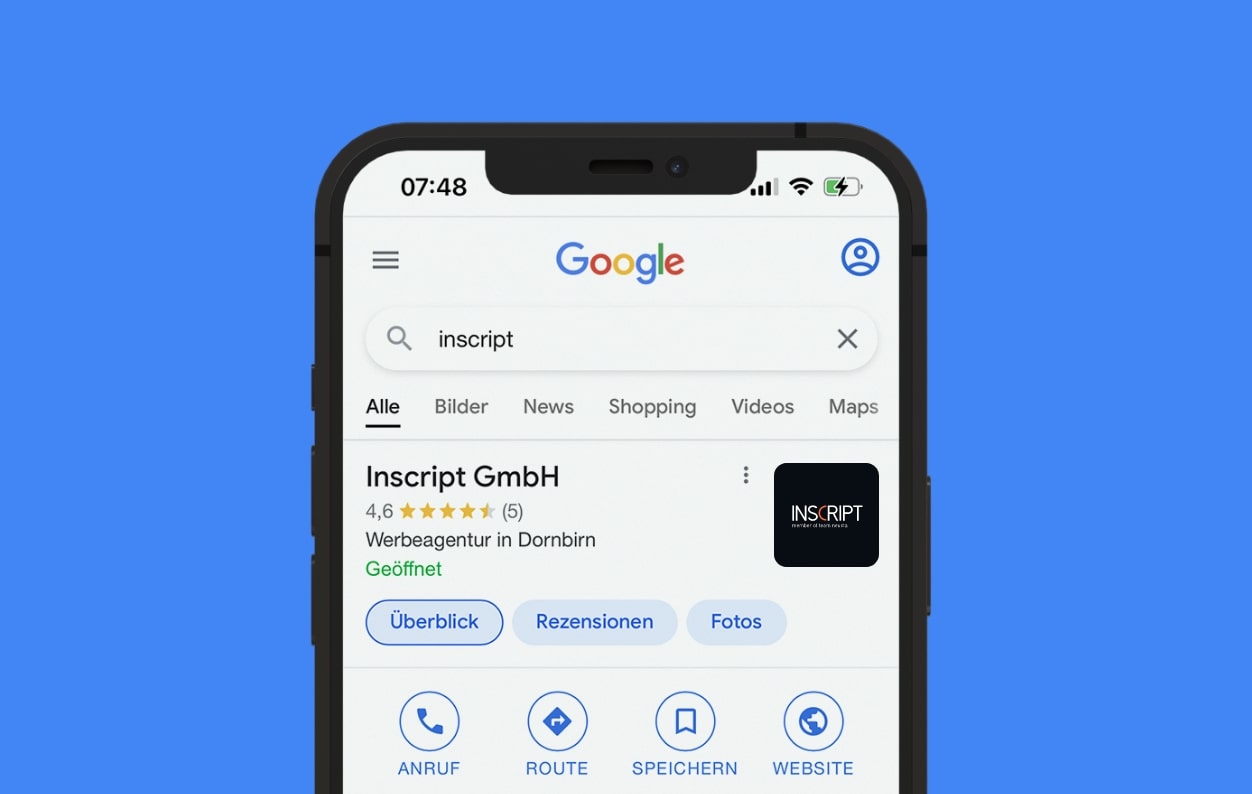 To Begin With, What ist Google My Business?
Online visibility is an important key to success these days. To ensure that your business is visible on the web, the Google My Business tool acts as an interface between the Google search engine and your business. With an entry on the platform, you ensure that your company and your products are found for specific search queries. In doing so, you decide yourself what kind of information you would like to disclose about your company. This information is displayed to the user on the right-hand side of the browser in a clear and compact manner.
Google My Business, a Must for Local Businesses!
To be able to create a Google My Business entry, according to Google guidelines, there must be personal contact with customers, i.e. no online business. An entry in Google My Business is particularly important for entrepreneurs, service providers or self-employed people who maintain a local customer base. Since in most cases there is a direct purchase intention behind the search queries, you benefit from the increased visibility. For example, if a search is made for the best burgers in the city, it can be assumed that the searcher most likely is in the mood for a burger. It is rather unlikely that the interested party only wants to get information for the future, should he or she then have a craving for a burger. If you now run a restaurant with a choice of burgers, the chances of gaining a new customer are higher thanks to the Google My Business entry. The display in the browser looks a little different than if only a specific company name is searched for.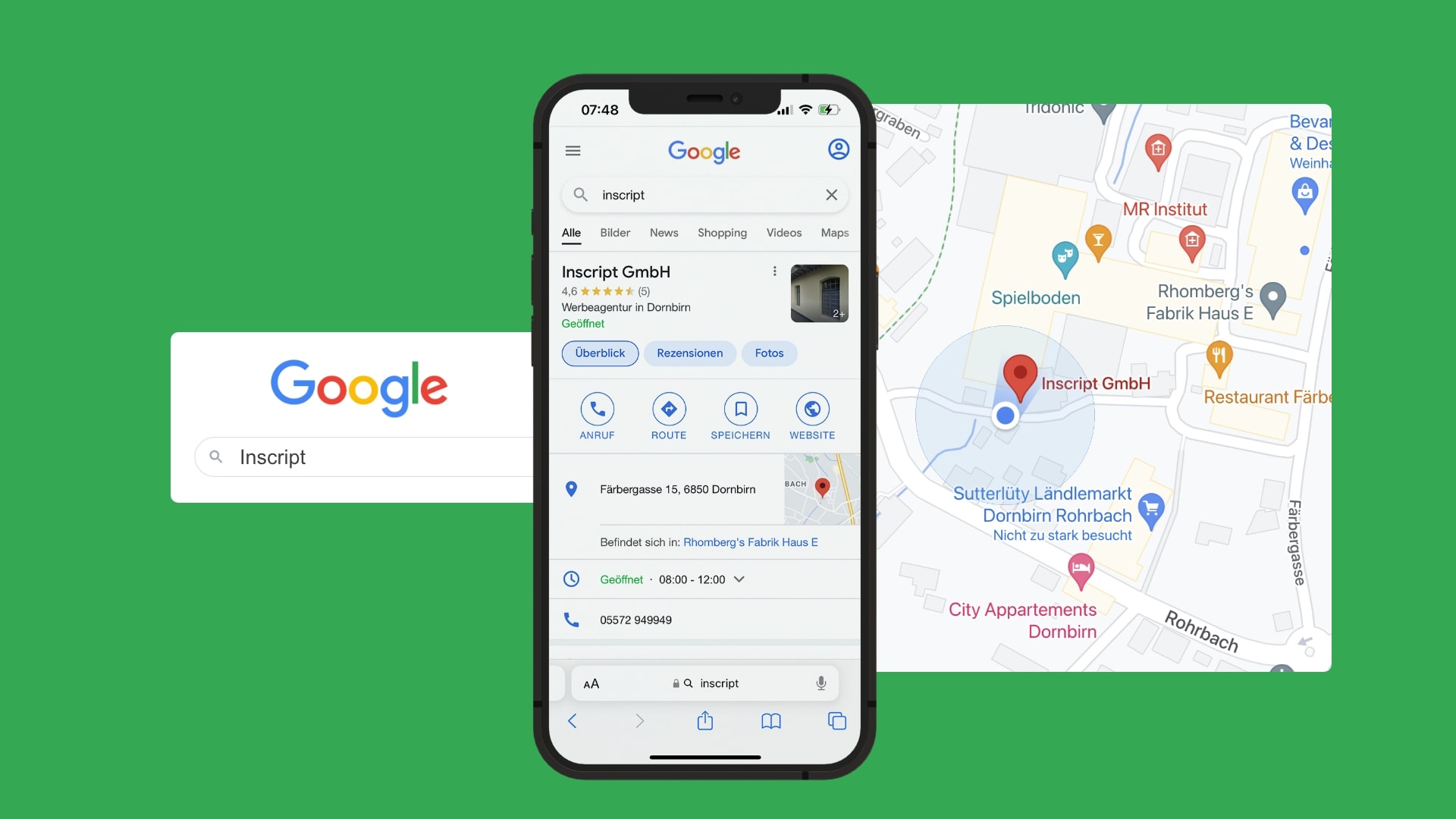 Benefits of Google My Business
The great thing about Google My Business is that the feature has a wide reach and is also free of charge. All you need to use this tool is a Google account. Once your business is listed on Google My Business, this listing does much more than just significantly increase the visibility of your business. You can also use the following points to your advantage:
Publish opening hours
Upload photos of your company
Listing, with price if desired, of products and services
Advertising of special promotions, contributions and events
Visible customer rating with stars
Direct location information by marking on Google Maps with additional route description (create your own website for this via Google)
Access statistics and, if necessary, take appropriate advertising measures
Tip: Since there is nothing more annoying for customers than standing in front of closed doors, you should make sure that your opening hours are always updated. Especially the holiday information is very important. Moreover, Google loves for data to be current: by regularly updating your data, you boost the search engine optimisation.
"5 Steps to an Optimised Google My Business Entry"
01 – Presentation of Your Company
Feel free to include the history of your founding or your corporate philosophy. This way you give interesting impressions and ensure an individual and impactful entry. You should also stand out from the crowd and convince your customers by distinguishing yourself from the competition and describing what you offer as precisely as possible. A good text length is a maximum of 750 words. You should definitely include the categories of your core business.
Tip: Duplicate content should be avoided. Here, too, the rule is: Be exceptional! Copying the company description from your own website is not of advantage.
02 – Indication of Service and Price
The indication of services in addition with prices is a relatively new function of Google My Business which you should definitely use. This way, your prospects and customers will immediately recognise if you offer the desired service in the price range they are looking for. This will result in you gaining more visitors and customers.
Tip: Use statistics to find out what works better. Test whether the offers with or without price work better on your visitors. This way you will find out which variant brings you the better search results.
A central component of the optimally designed entry in Google My Business is definitely the posting of pictures. You can upload the pictures under the heading "Photos". Furthermore, exterior and interior images of your company or product images and photos of the workplace are excellent. This allows visitors to get a certain insight behind the scenes. The pictures should definitely be assigned to categories. In order for your entry to influence the search engine ranking, a well-described image file is of great advantage.
Tip: Separate the keyword with hyphens and describe in no more than five words what exactly is shown in the image.
Always keep your users up to date with the posting function. This function gives you the opportunity to inform your visitors about the latest events and promotions. In addition, you can refer interested parties to posts from your blog. These blog posts then disappear automatically after seven days. In order for your Google My Business account to remain relevant in the long term, regular maintenance of the account is very important, or rather, it is of the essence at this point.
Tip: The best way to do this is to plan ahead with the help of an editorial plan or content plan.
05 – Activate Ratings and Reviews
The best and most meaningful advertising for your company is and remains customer reviews. The reviews of your customers are not only an important factor for the ranking position, but also affect the shopping habits of potential customers. After all, reviews reflect how your customers' buying experience was and how they perceive your business. An important factor here is that you react to every customer review, whether negative or positive, and respond quickly. Accept and thank criticism in the same way you thank praise. This way, customers see that their opinion is important to you
Here is a Brief Overview of All Google My Business Features
You should make use of all these possibilities, especially as a local business. The tips will help you set up a Google My Business entry or optimise an existing entry. Thus, you have a good chance of significantly increasing your visibility for visitors and customers. In the process, your ranking for local search queries will increase all the more, and all for free.
Disclosure of all key company information such as name and contact details
Overview of regular and special opening hours
Images of the company
Description of the company
Various services and products (with or without price)
Creation of a menu
Exact location display with marker and route via Google Maps
Overview of group locations
Overview of current information, events and promotions
Creation of website
Consultation of statistics
Addition of special features, such as "barrier-free accessibility"
5 Steps to the Perfect Google My Business Entry
02/16/2022
The Google My Business entry is one of the most important for a company on the Internet and should always be up to date and fed with sufficient information.